Protection & Management
How do people manage and protect what is hidden down below? Often, it is not easy.
Caves by themselves are spaces but what they contain can be of great value. Rare and unusual species, important sources of water for towns and cities downstream, the bones of ancient human ancestors, beautiful crystals and far more can be found underground. Protecting these many features, particularly when they are hidden from sight, has challenged cave managers globally for decades. 
One of the most important ways to protect caves is to protect our streams and rivers from pollution, invasive species, human-caused erosion, and climate change. Water moving underground makes many caves. But water connects to all parts of our environment. From caves, it returns to the surface at springs to feed rivers that we use for drinking and agriculture. Rivers and streams in cave regions are threatened by agricultural chemicals applied to fields and that are dumped into sinkholes. Inappropriate urban and agricultural development can cause heavy erosion leading to valuable topsoil being washed down into caves.
Laws, Regulations, and People
Sewage in both rural areas and cities sometimes leaks from pipes or is left untreated. Industrial pollutants and spills, such as from trucks carrying gasoline, can immediately imperil cave animals and human water supplies. Water diversions and dams change water temperatures, chemistry and habitats, threatening cave and surface species alike. Climate change is altering stream flows and water temperatures which makes floods bigger inside caves and on the surface. Overall, thanks to laws that protect our water, our rivers and streams have become cleaner and less polluted in recent decades in many parts of the world. But there is no guarantee that this will continue into the future.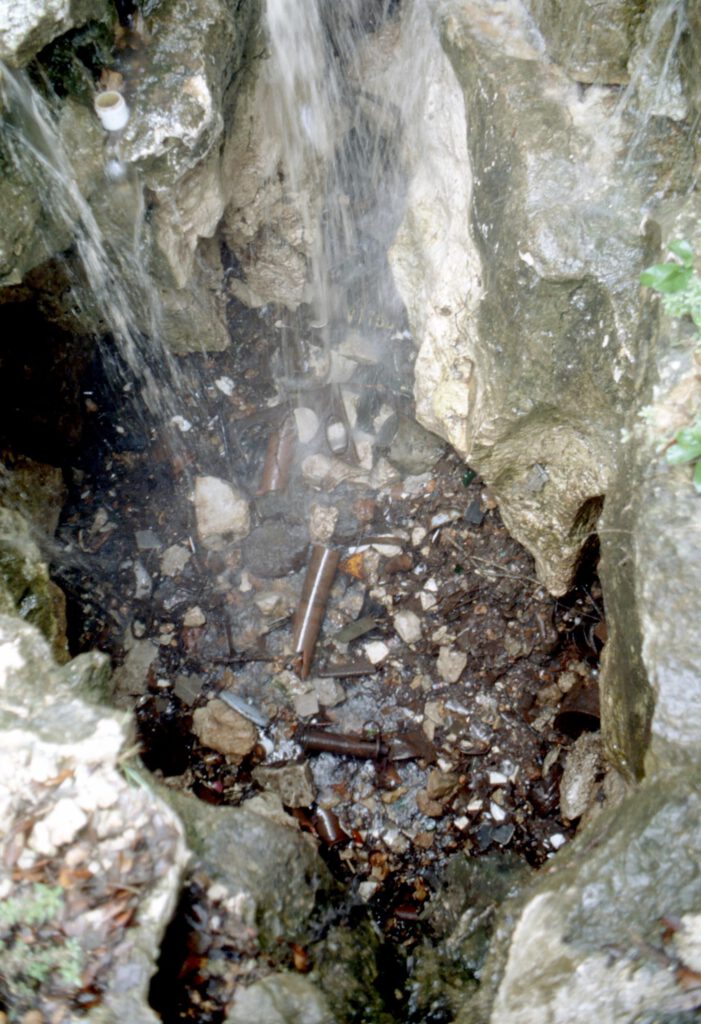 What happens on the land surface can affect what goes on underground. Protecting the landscape above caves and in areas that drain to caves is very helpful in protecting what is found in caves. Activities like land-clearing, logging, road building, and mining disturb large areas and can have big impacts on caves. It does not have to be that way. Many steps can be taken to put procedures in place that will minimize impacts and protect caves while development goes ahead. 
Many of the challenges of protecting caves arise when people come for a visit. Most people are careful, protective, and respectful of caves when they recreate underground. But some disturb bat colonies, trample wildlife, mark cave walls with graffiti, leave trash behind, or start fires. Caves are part of our natural environment. They provide many benefits such as clean water and bats, which eat insects that endanger our crops. Caves deserve our protection and care.
Cave management is about protecting caves from people. Sometimes cave managers place gates or barricades at cave entrances. This is usually to protect something inside such as rare bones and delicate crystals or to protect people from hazards such as deep pits or unstable rocks.
Cave Management/People Management
Cave managers keep track of what lies inside caves. Which cave animals live in which caves? Which caves or cave rooms do they prefer? By studying the contents of caves, cave managers can watch for changes and document what is found inside. Climate change makes this work more important since a changing climate may impact what lives and is preserved in caves.
Cave managers also help people go caving. Cave exploration can be a fun and exciting sport. In many caves on public and private land, cave managers make it possible for cave exploration to continue while key cave features are protected. The cave manager may make trails for cavers to follow or may close the cave when bats are having their babies or may make detailed maps to know what a cave contains. Cave managers may practice for cave search and rescue, because sometimes people underground are injured or need help.
Cave managers also help researchers learn more from caves. They may be involved with bone or fossil discoveries, the mapping, and documentation of newly found cave features, or detailed inventories of cave animals.
One important area of cave research that benefits management is determining the watershed for a cave. This is the area of land that drains to a particular cave or cave spring. In areas with caves, streams are underground and out of sight, making it difficult to know which creek drains to which cave or spring.
Cave management and protection is not easy in a changing world, but scientists, landowners, land managers, cave experts, and many citizens are working to protect and learn from caves for the benefit of us all.